About Mikael Melbye
Mikael Melbye was born in Copenhagen in 1955. In the family tree you will find the renowned painter Anton Melbye whose work from the middle of the 19th century made him one of the icons in the golden period of Danish painting. Mikael Melbye started his training as a painter with his mother (a watercolorist) in early childhood. Since then he studied with several Danish and American painters such as Kay Christensen (famous for his portrait of Danish Author Karen Blixen in the National Danish portrait gallery), Richard Schmid and Francis Cunningham.
However it was music that was to be MM's artistic outlet for the first 30 years of his adult life. He became an internationally known opera singer and sang on virtually every major opera stage of the world including La Scala in Milan,San Carlo in Naples, Rome opera, Covent Garden and The Met in NYC. Cd's include the Phillips recording of 'The Magic Flute' with Sir Colin Davies and the 'Carmen' with Herbert von Karajan. The last 10 years he has devoted the majority of his time to directing and designing for the stage in Denmark and abroad. MM was bestowed a knighthood by Her Majesty The Queen Margrethe II. in 1996 and a peerage in 2006.
Through all this he never stopped pursuing his love for painting. Some years ago he completed a large oil portrait of his singing mentor and long time friend Royal Opera singer Ib Hansen. He offered it as a gift for The Royal Danish Opera for their collection, where it is now on permanent display. Since then he has been much in demand for full-scale classical Oil portraits in Denmark and abroad. His paintings can be found in museums and private collections in Europe, USA and Australia.
More information
Scenes from the documentary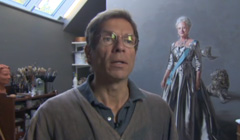 The book "Soul Images"